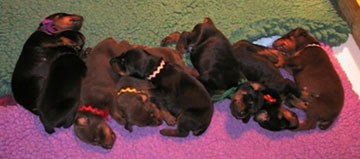 At ADAMAS, only one or two litters are produced a year. Puppies are whelped in my dining room, while I sleep on a daybed next to the whelping box for the first few weeks of their lives. The puppies are raised in the main activity area of the house. They begin housebreaking at 5 weeks and crate training at 7-8 weeks. Puppies are taken on car rides, go to work with me and attend family gatherings.
Puppies produced at ADAMAS do not begin go to their new homes until 10-12 weeks of age. This allows me to make sure that all puppies are properly ear cropped, and the edges healed and stitches out, before placement in their new homes. For an additional fee, when you pick up your 11-14 week old ADAMAS puppy, it can already be obedience trained to heel with automatic sit, sit, sit-stay, come, down, down-stay and go to place. The positive method used for training puppies lays a good foundation for a deeper relationship between owner and puppy.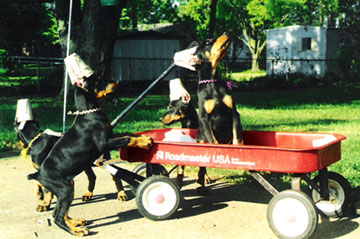 My puppies travel to many locations and events to socialize them before they go to their new homes. Here we are at 8 weeks, staying the weekend at a friend's home in Alabama, where the puppies also went to a local agility trial.