In 2015 I had a litter of five boys- four blacks and one red. Being a sucker for red males, I kept the red one. Despite feeding a grain-free diet, supplementing with fish and coconut oils, and doing minimal vaccinations (Jean Dodds protocol), at four months his coat looked terrible! He literally looked moth-eaten, with patchy holes throughout in his thin, dry coat. My vet wanted to scrap him for mange which I passed on. As a Registered Vet Tech I've seen my share of mange and this just didn't fit the bill. I felt in my heart this was a matter of him needing to improve his immune system which is a common problem in puppies, and really dogs of any age. I gave him another month of status quo, but his coat was simply not improving.
Around the same time, a friend called saying her 8 year old Champion Doberman was having a coat problem that had been ongoing for several weeks. Although she was not itchy, it was causing redness and the hair to fall out on her underside and sides. Nothing had changed in the dog's diet, bedding, shampoo or grooming products used, the yard had not been treated, and the laundry and household cleaning products had not changed. The only thing that could possibly account for her condition was perhaps some allergen.
While researching potential solutions to these two dogs' problems, I learned of a product from two friends and fellow DPCA members, Holly Schorr of Pennylane Dobermans and Lisa Buroff of Winmar Dobermans. Both ladies have several decades experience successfully breeding AKC champion Dobermans, and I admire them and their opinions greatly. Although open minded, with my medical education I tend to be skeptical of products that make broad based claims. But with a 60 day money back guarantee; and a review of their quality control and ingredients used, I felt comfortable giving it a try on my puppy boy and had my friend order it for her 8 year old female.
By the time they had been on NuVet Plus® for 4 weeks, you could already see some improvement. By the end of two months on NuVet Plus®, my then seven month old puppy boy went to his first full weekend of shows, coming away with wins two out of three days for five points including a major! By the end of 3 months his coat was thick, lush and dark with not a moth-eaten hole to be seen, and the 8 year olds' coat had filled back as well! See the untouched 'Before and After' photos of these two dogs below to see for yourself. This skeptic was sold! So it is with confidence and pleasure that I share this product line with everyone...
- Elizabeth Barrett RVT, CCRP
ADAMAS Dobermans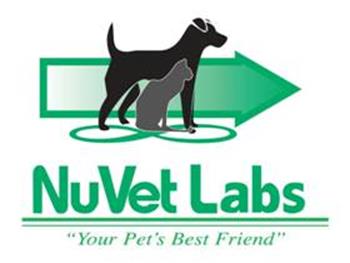 The Problem
Recalls of commercially prepared dry dog foods in recent years have highlighted some of the inadequacies in the pet food industry- such as toxic mold and bacteria, contamination of products sourced from overseas, vitamins and mineral levels inadequate to meet the guaranteed analysis, and antibiotic residue from sourced meats to name a few. Additionally, many of the ingredients used in preparation of these diets are nutritionally inadequate and are common triggers for problems that cause your pet undue distress and warrant costly veterinary attention.

Even raw based diets have their share of problems including bacterial contamination, sourcing issues, and the possible use of antibiotics and hormones in the production animals. Even though made with the best of intentions, homemade diets, cooked or raw can have nutritional gaps the owner may be unaware of.

The Solution
NuVet® products were developed over a span of eight years by three veterinarians, a nutritional scientist, a pharmacist, and a physician who were fed up with sub-standard nutrition and nutritional supplements in the pet industry. Their goal was to develop a holistic all-natural supplement that would get to the source of the problem and not just treat the symptoms.

NuVet Labs® has been on the forefront of pet health since 1997. NuVet® formulations have been studied by numerous Universities who have discovered that our ingredients and exceptional compounding properties are designed to fight illnesses at their root source and strengthen immune systems to keep pets strong and healthy.

What makes NuVet Plus® unique?
● Natural, Solely Human-Grade Ingredients
● NuVet Labs® uses cold processing so the ingredients rich nutrients are retained and quickly absorbed by your pet's metabolism,
providing the maximum effectiveness available
● Manufactured in a FDA (Human-Grade) Registered Pharmaceutical Laboratory; virtually unheard of in the pet industry due to
the expense and strict monitoring required
● NuVet Labs® products are manufactured and fully compliant with all current Good Manufacturing Practices (cGMP-21CFR11)
established within the industry, and they meet or exceed all quality standards for Human Nutritional Supplements.
● Safe for dogs and cats of all ages, including pregnant females
● No Artificial Sweeteners or Fillers

How does Nuvet Plus® work?
● Combats free radicals and helps reduce the risk of many ailments that can strike your pet
● Promotes proper function of the immune system, cardiovascular system, bone structure, nerve systems, glands, organs,
and more
● Protects against dangerous toxins and other harmful substances that pets encounter daily in the environment and in foods
(many of which contain hormones, preservatives, meat by-products, pesticide residue, sugar, and allergens like corn and grain)
● Helps beautify the skin and coat with natural omega fatty acids that are unavailable from most foods and supplements because
they are destroyed through heat treating (cooking)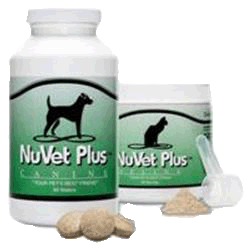 Does your dog suffer from...
Allergies
Skin and Coat Problems
Scratching, Itching, Biting
Hot Spots
Arthritis and Joint Problems
Premature Aging
Low Energy Levels
Diabetes and Liver Problems
Cataracts and Tumors
Digestive Problems
Tearing
Heart Disease

NuVet® products help put pets on the "path to perfect health" and support development through every stage in life!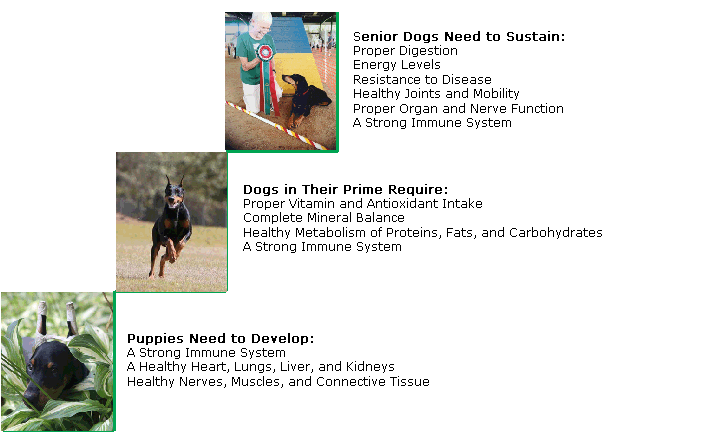 Just one wafer a day for dogs over 5 pounds, 1/2 wafer for dogs under 5 pounds.
Sold in a 90 count bottle, NuVet Plus® is an affordable way to provide your pet optimal health for life!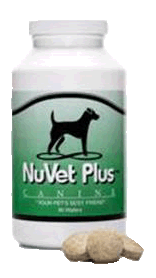 60 day, 100% satisfaction guarantee!